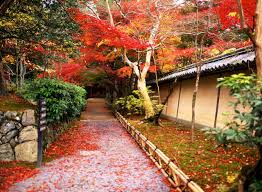 Cultural and historical heart of Japan
It's the cultural and historical heart of the country. It's the best place in all Japan to experience traditional temples, shrines, gardens, geisha, shops, restaurents and festivals. In short, Kyoto is the most rewarding destination in all of Japan and it should be at the top of any Japan travel itinerary.

This city has a bunch of attractions that every visitor to the city should check out. Here are some things I consider must-see attractions and activities in Kyoto: Buddhist temples, shinto shrines, japanese ganden, a night in a ryokan, Japan's exquisite traditional accommodation, a meal in a japanese restaurent hole in the wall, an evening stroll through the Gione entertainment district, a traditional festival, and some great old Kyoto shops.
Kyoto is home to some of the country's best ryokan (traditional Japanese inns). It's the quintessential Japanese experience. In addition to ryokan, Kyoto has a wide range of excellent hotels, from international brands like the Hyatt to Mume. Renting a lovingly restored machiya (traditional Kyoto townhouse) is a great way to experience traditional Kyoto living. Another good option for families and those who want their own, self-catering space is a kyoto vacational rental, giving you the feel of living in your own apartment. Or go for hostels or guest house.
Must watch places are in every direction in kyoto northen kyoto: Kinkaku-ji, Ryōan-ji, Ninna-ji, Kōzan-ji, Shimogamo Shrine, Kamigamo Shrine
• central kyoto: Nijō Castle, Nishi Hongan-ji, Tō-ji
• eastern kyoto: Kiyomizu-dera, Ginkaku-ji
• western kyoto: Tenryū-ji, Koke-dera
• southren kyoto: Daigo-ji
You can visit Kyoto at any time of year – it's never too hot, too rainy or too cold to visit. The summers (from late June to early September) can be hot and humid, but not impossibly so. The winters (from early December to late March) can be cold, but not freezing. Spring and fall are obviously the ideal times to visit, with warm to cool temps and generally sunny skies. The late March/early April cherry blossom season is very popular, for obvious reasons, but it's also very crowded. The November and early December fall foliage season is also great and not quite as crowded as the cherry blossom season.
Kyoto is a relatively small city with an excellent public transport system. It's VERY easy to get around. Indeed, unless you come from a city with a freakishly good public transport system, I bet it's easier to get around Kyoto than it is to get around your hometown. Kyoto is also a great city to explore by bicycle.
If you are worried bt cash or card problem, there are ATMs that work with international bank and credit cards are not as common in Japan as they are in many other countries. But, you can get money out of postal ATMs and ATMs at convenience stores like 7-11.
Kyoto doesn't have a major international airport, but it's very close to Osaka's Kansai International Airport (KIX), Nagoya's Chubu Centrair International Airport (NGO), and it's 3.5 hours by fast express trains from Tokyo's Narita International Airport (NRT). If you're coming from other parts of Japan, Kyoto is very close to Osaka's domestic Itami Airport (ITM) and it's well served by the bullet train (shinkansen).
1,121 total views, 1 views today