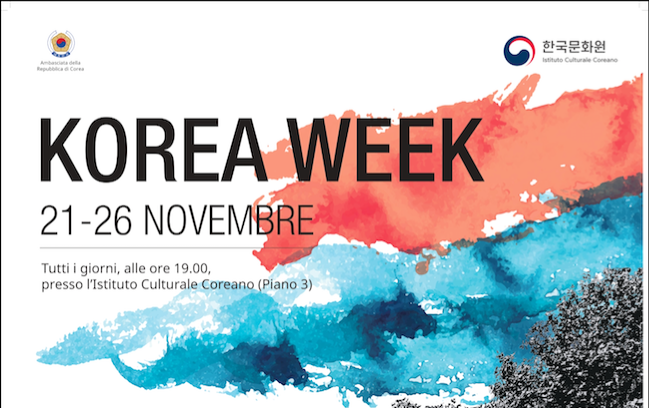 A Week of K-Pop, Taekwondo, Opera more
Korean Institute's Culture week
The beginning of next week sees the start of the beautiful Korea Week in Rome, which is organised by the Korean institute and is in association with the Korean ambassador's office. It will prove to be a fascinating insight into the lives of Koreans that call Rome their home. With events covering Korean food and music, but also exhibiting the delicate craft of Hanji; Which, the Institute also run classes for throughout the year.
The week kicks off with a dynamite display of the superb qualities of Korean cooking, which will be showcased in association with Gambero Rosso and, Korean and Italian chefs. So you can be certain that you will be given the culinary experience of a lifetime. Then partake of the Korean delicacies that the show brings to life. You'll forget about pizza after you smell the aroma of a perfect Haejangguk stew.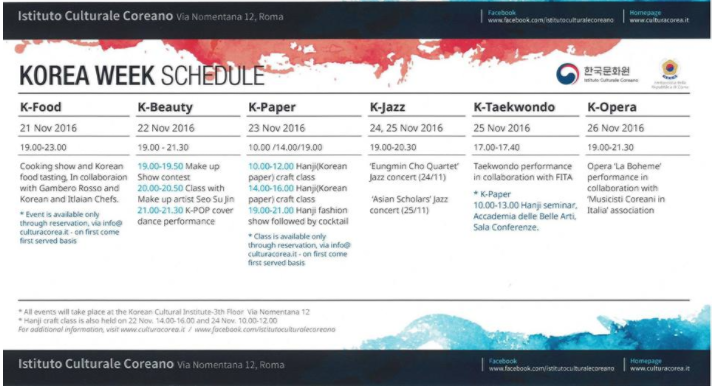 If you, unfortunately, miss this event never fear all week there are other stunning shows to occupy yourself, With K-Pop dancing (Which will put Gangnan Style to shame), Refined jazz performances from "Eungmin Cho Quartet" and the Asian Scholars' jazz concert. So if music is your joie de vivre. Then the performances of these groups is an absolute must. Or if you have no experience of Korean music; now is the chance to get an education in one of the fastest growing music industries, the Korean pop music scene; K-Pop for short.
There are also demonstrations of Taekwondo which is in collaboration with FITA ( The Italian Taekwondo federation). So for those who appreciate the perfect execution of the martial arts and those that want to be shown by the physical skill of Taekwondo. These demonstrations are the perfect pre-dinner show.
In addition, There is K-Beauty. Where you can spend the evening learning the delicate techniques of Korean beauty from Seo Su Jin. A Korean makeup artist with over 20 years of expertise! Learn how to get the look of a dynamic K-Pop superstar or some secrets of the trade that comes with being in the cosmetic industry.
The tourist season may be winding down but Rome is certainly no less breathtaking and full of activities for visitors. Spend your first day in Rome next week by seeing the majesty of the Colosseum, and then in the evening take a short trip on the Metro to the Korean Institute to discover what Rome's Korean citizens add to the rich culture of Rome. I guarantee you will feel enriched by the experience. 최고의 소원 !!
M&J Hostel (Near the Korean Cultural Institute and Termini station) :
The Korean Cultural Institute: www.culturacorea.it and www.facebook.com/istitutoculturalecoreano
979 total views, 1 views today