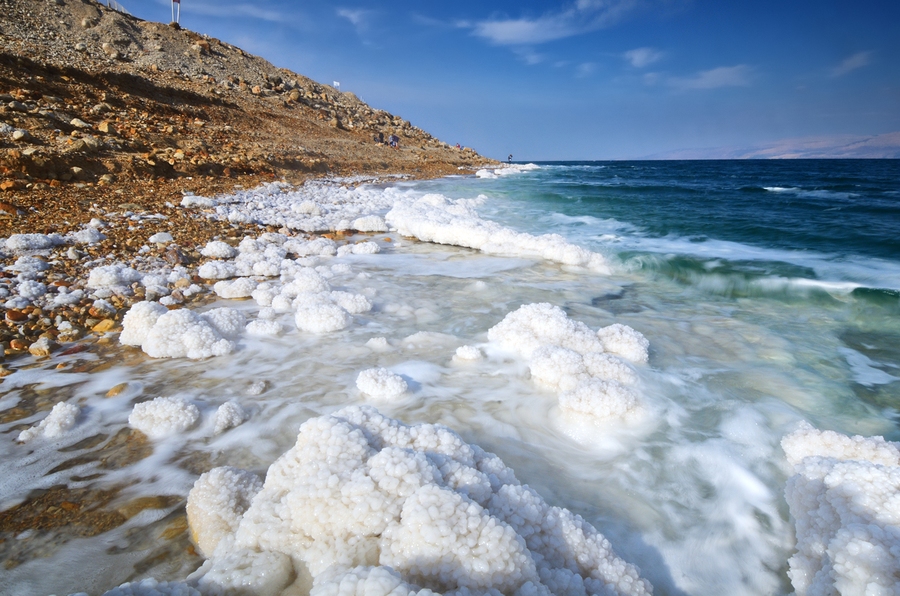 Tours, Hostels Pubcrawls
As an American living abroad in Israel this summer, it hasn't been overly unusual to receive a "WhatsApp" message from a friend on Birthright asking to meet up for a quick hour before their tour continues on. However, this weekend I received a more surprising message. A friend from back home let me know that just two hours ago, her family decided they would fly to Israel–that night. (Perks of being the daughter of a pilot, am I right?) She notified me that she would be boarding soon and would spend just 48 hours in Israel.
So naturally, I began typing as fast as I could, spilling out what seemed like pages of recommendations on how to get the most of Israel in just a sliver of time. Below is my collective list:
Day One: Tel Aviv
Carmel Market
Notably one of my favorite of all spots in Israel is a place that will set your senses ablaze. The Carmel Market, commonly referred to simply as "The Shuk" (Shuk, meaning market in Hebrew,) is filled with so many vibrant colors, bustling noises, endless fresh products to touch, taste and smell–this place is a foodie's paradise. Heaping stacks of dried fruits, spices and produce line the crowded street practically beckoning you to take them home with you. But that's not all, you can find anything ranging from souvenirs to a new pair of jeans in the shuk.
Pro Tip: Don't be afraid to bargain–it's expected!
Sarona Market
If you haven't already filled your tummy to the brim by now, one of my favorite places to grab lunch is a much more upscale market, known as Sarona. The Sarona market is a contemporary, culinary experience showcasing endless little shops that feature craft wines, imported cheeses, homemade pastries and so much more. The area itself is an interesting clash between cultures, rich with history. You may notice that you feel slightly like you've left the Middle East and traveled to Europe, as this part of Israel was home to the Germans long ago.
Azrieli Center
Less than a ten minute walk away from Sarona Market is the towering Azrieli Center. While the first few floors are merely a typical shopping mall, the real treasure here is heading up to the 49th floor observatory. What awaits you is the most incredible 360 degree, endless view of Tel Aviv. What gets me every time is staring out and thinking about how less than 100 years ago, this incredible metropolis was just a bunch of sand dunes.

Pro tip: It's free to visit the observatory if you mention you are eating at the restaurant, or you can pay the reasonable 22 NIS.
Old Jaffa:
Next up, travel over to the Old City of Jaffa (also referred to as Yafo,) which is just about a 20 minute bus ride away. Jaffa borders the Mediterranean Sea, so if you're doing well on time, be sure to take a dip in these crystal clear waters to cool off.The best part about exploring Old Jaffa in the evening however, is purely for the shore and skyline view at sunset. It's incredible exploring through something so old and historic and then looking out at the new. A+ location to grab a nice dinner and enjoy a glass of wine–or two!
Pub Crawl:
And if you're an avid drinker or just enjoy the nightlife, one of the many cool tours that the Abraham Hostel in Tel Aviv offers is a pubcrawl. For just about twenty American dollars, the tour takes you to some of the best hot spots in Tel Aviv. With VIP entrance, drink specials, and free shots–end your night the right way by standing on table tops and dancing the night away!
Pro Tip: Cover and drinks can get pricey in Tel Aviv, save money by going on an organized bar crawl like this one! Discover tours here at: abrahamtours.com
Day Two: Jerusalem & The Dead Sea
The Old City:
It's always been incredible to me that one little place could be so very important to three major religions of the world. Thus, going into the Old City of Jerusalem is a must do. Explore all four quarters: Christian, Muslim, Jewish & Armenian, and visit equally important and beautiful sites such as Dome of the Rock, The Kotel/Wailing Wall and the Church of the Holy Sepulcher. Wander on your own through the streets or go on a free 2 hour walking tour provided by Sandeman's New Europe: Jerusalem.
Fun Fact: The pomegranate is a symbol in Israel and also grows well in the area. That being said, you can get a glass of fresh squeezed pomegranate juice in the Old City for just a couple shekels!


Yad Vashem:
Arguably, Yad Vashem is not only one of my favorite museums of all time, but one of the most impactful experiences also. Take a tour through the historical timeline of the Holocaust, featuring artifacts, films, pop culture and testimonies. The building itself starts off wide and spacious, but as you roam through, you start to notice the building getting narrower and narrower. This detail was purposely created to show how the Jews of the world had less and less options as time went on; but alas, at the end of the museum light pours in, and you see the overwhelming view of Jerusalem. It'll leave you in awe.


The Dead Sea:
Known as the lowest point on earth lying 1,388 feet/ 423 meters below sea level, the Dead Sea is truly a world wonder. The water is so salty that you'll actually float. Take some time to smear some of the mud from the dead sea all over your body for a great exfoliation. (It's rich in antioxidants and minerals!)
Pro tip: Stop shaving a few days before your visit, as the salt will irritate your skin making it sting or burn. However if you do have any cuts, expect the salty water to help you heal!
And just like that, your 48 hours will be coming to a close. But wherever your ventures may take you next, Israel will always be here awaiting your return.
Safe travels!
Looking for a great place to stay during your 48 hours? Check out the Abraham Hostels in both Tel Aviv & Jerusalem for an affordable, fun, and comfortable experience that is suitable for all.