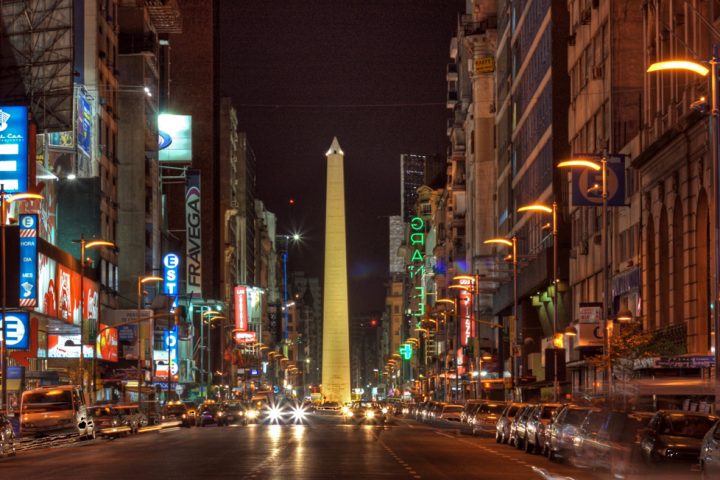 The Avenue Corrientes
The city where the tango is breathed in any corner, the coffee demands a few hours of slow chat, and the pizza eats up in the bar.
Three safety pins of this city in which everything is possible.
The Avenue Corrientes, the street of the bohemia and with most artistic history of the city, "the street which never sleeps". Lengthways and widthways there spread out theatres, cinemas, bookshops, music shops, coffees and pizzerias where the prominent figures used to meet. Carlos Gardel and the Abasto, where he lived most of his life, and today one finds his house – museum. The corner of the tango, in the intersection with the street Esmeralda. Federico Garcia Lorca and the theatre Podesta. Jorge Luis Borges and the ice-cream "El Vesuvio". The pizzeria "Banchero" and the fugazza with cheese; the restaurant "Pippo" with the classic "tuco and pesto"; the coffee "El Gato Negro" and the spices and varieties. The great stadium Luna Park, where they used to organized fight of boxing, now turned for artistic activities, they realized the funeral of Carlos Gardel and Diego Maradona got marriaged here. This street offers multiple ideas to enjoy the Argentine culture.
The neighborhood of Palermo, with lakes and parks. It allows to enjoy a trek of the calmness. The planetary Galileo Galilei, the forests, the Japanese Garden, the Zoo of the City, the Hipodromo and the Botanical Garden, compose a series of spaces that invite you to relax with the famouse argentinian drink, "mate". The most big neighborhood, divided in sectors, among which they emphasize Palermo Chico, a zone of residences and palaces; and Palermo Hollywood, with television producers and bars, is frequented by people of the cinema and T.V..
The neighborhood of San Telmo, the most preserved historically. Streets with cobbles and ancient churches. They can find fairs of exages and craftsmen, museums and shops of disign. San Telmo's Fair in the Plaza Dorrego takes place
on Sunday
, with street artists and air of Candombe and Tango. Among the museums, they emphasize the Museum of Modern Art and the Historical National Museum located in the Parque Lezama. And to enjoy local food, visit San Telmo's Market, inaugurated in 1897, and even now preserves the spirit of the old markets.