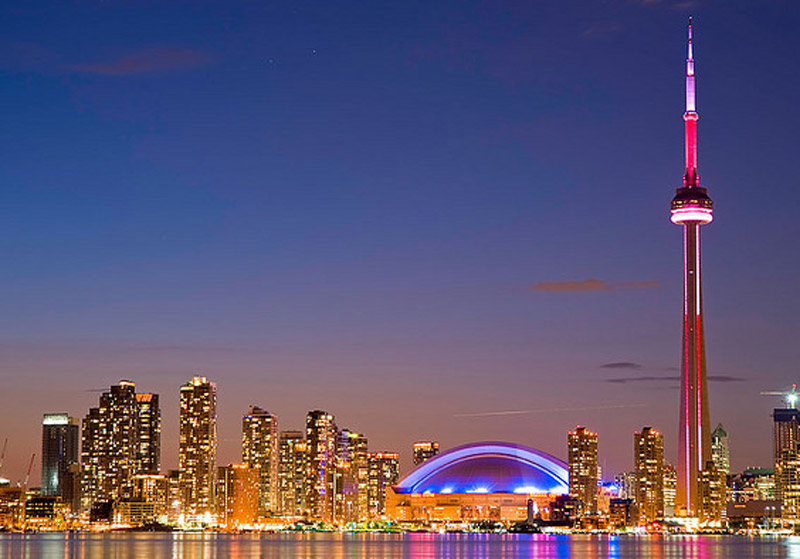 The world from CN tower
The idea of spinning in circles while you eat sounds terrible, doesn't it? On the CN tower in Toronto you can quite literally watch the world go by beneath you while you sit in the slowly rotating restaurant and bar giving you perfect panoramic views of the Toronto skyline. If that isn't dinner and a show, I don't know what is!!
If you would rather have your feet more firmly on solid ground, then head to Nathan Philips Square. With a beautiful outdoor skating rink in the heart of the downtown area, it is a brilliant place to glide and float around for an afternoon into the night, with the starts twinkling above you! What?! I said your feet will be on the ground, I never said it wouldn't be slippery ice!! If you don't fancy slipping and sliding everywhere then the square also hosts a beautiful farmers market.
If you would like to go to another market, then the St Lawrence Market is the place to go. Make sure you give yourself enough time to enjoy the THREE buildings that make up this market, that that has been open since for 208 years. First, you have the South Market, with two floors housing 120 specialty vendors, you won't be short of exciting smells and foods to nibble on. The North Market, this is mainly know for the Saturday Farmers Markets, however for the other days of the week the space is available to rent and is frequently used for things like flea markets displays etc. The third and final building is the St Lawrence Hall, it was built in 1850 and consists of three floors.
The first two floors are occupied by retail businesses. Whereas the third floor, which had been restored in 1967 under the City of Toronto's Centennial project contains the Great Hall which houses many rooms to rent for special events such as weddings.
After all that food you must be thirsty, in that case it is time for the Steam Whistle Brewery, hosting many festivals and tours, it is a brilliant place to spend a few hours in the afternoon / evening. With FREE samples, how could you resist?
If drinking is not for you then you can always head to Ripley's Aquarium of Canada, housing over 16,000 aquatic animals and over 100 interactive opportunities, Canadas largest indoor aquarium is somewhere you can spend many hours! With many talks and shows during the day, you'll find it hard to tear yourself away from this magical underwater experience. If you don't like walking, they have you covered! With a moving walkway through an underwater tunnel, you can fully immerse yourself in the aquatic experience!
Right on your doorstep from there is the Air Canada Centre, home to the Ice Hockey team the Toronto Maple Leafs! It is well worth the visit, if you don't fancy forking out for an NHL game then you can always watch a Toronto Raptors gam for a fraction of the price, Canada sports some great hockey so you wont be disappointed. If you're lucky there will be some gloves off during the game, mixing boxing with ice skating, now that's entertainment.
Are you all hockey'd out? You're in Canada – that's tough luck! After a hockey game, you'll need to wonder over to the hockey hall of fame. It is a great way too interactively learn more about the gracefully violent games history. Plus, you can get nice and close to the Stanley Cup! The architecture in the building it simply beautiful too, so when you're not learning why your new favorite coffee joint (Tim Hortons, am I right?!) was founded by a hockey player then take 5 to appreciate the beautiful structure. Once you're done, grab yourself, a coffee and a Timbit, or 20!
743 total views, 5 views today