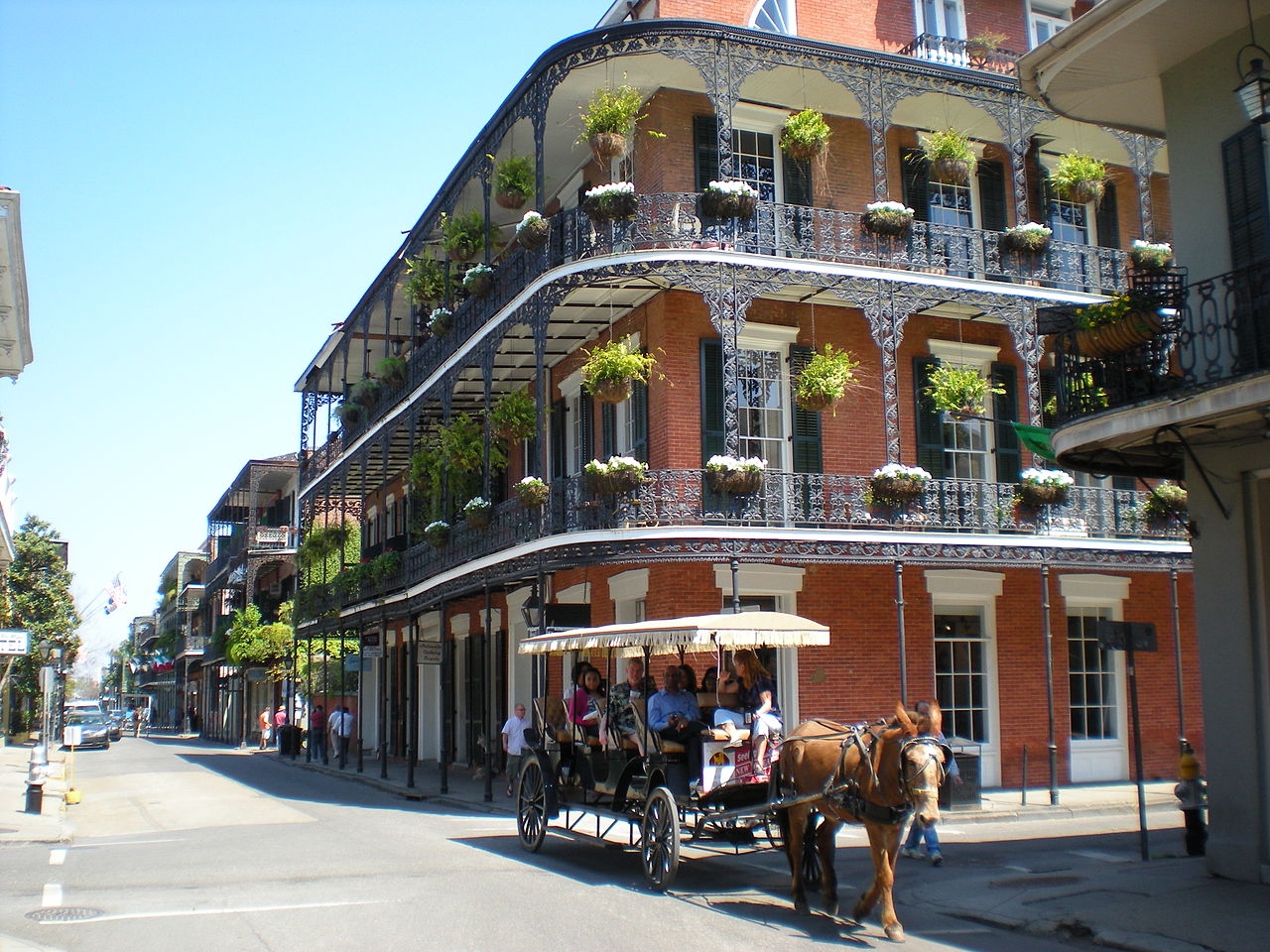 The city of jazz
New Orleans, located deep in the American South, is a melting pot of cultures unlike anywhere else in the world. It has a long history: first as a federation of Chitimatcha tribes, second as a French Colony, then seceded to the Spanish before passing back into French hands, and finally transferred to US power with the Louisiana Purchase. Due to the slave trade, these Native American and European cultures were injected with Caribbean and West African traditions, which all combined to create the unique rhythm and culture of New Orleans today.
When most tourists think of New Orleans, they think of Mardi Gras – the two week long celebration before the Christian tradition of Lent. "Mardi Gras" means Fat Tuesday, named after the gluttony and excess which is the signature of this celebration before sacrificing these vices for the 40 days of Lent. Parades roll morning, noon, and night through Uptown, Mid-City, and the French Quarter. You may be tempted to stay in the French Quarter, the oldest part of the city that is well known for Bourbon Street, where you can party until the sun comes up any day of the week. I would suggest staying outside the French Quarter, in the Garden District near Magazine Street because you will be within walking distance of the parades and the debauchery in the French Quarter, but in a safer neighborhood with less noise.
Magazine Street is a fantastic destination at every time of year. Stretching from Audubon Park in Uptown to Canal Street at the border of the French Quarter, Magazine Street runs through the heart of the city and is well known for its boutique shops and high-end restaurants. I recommend starting your day with a nice stroll past the ponds in Audubon Park before walking down Magazine Street for brunch or lunch. I lived in New Orleans for 4 years, and I still haven't tried even half of the well-known and unbelievably delicious restaurants in the city. Essentially, you can't go wrong, no matter what you choose.
When you tire of shopping, take a connecting street to St. Charles Avenue, where you can take a historic streetcar (think "named desire") all the way to Canal Street, for only $1.25. You must pay cash on board, so have exact change or buy a day pass for $3. The streetcar will take you past the famous Saint Charles Mansions, which are gorgeous on their own, but shine the brightest during the holidays. If you have a few extra hours, get off at the Lee Circle stop and walk a short ways to the National World War II Museum. This massive museum has wings for the European and Japanese fronts separately, which means you will need to walk through quickly to see both, or dedicate at least a few hours to seeing the museum. When you buy your tickets you can also purchase tickets to see the short 4D film "Beyond all Boundaries," I highly suggest you do! It's the perfect introduction to the museum, and will make the exhibitions come alive by reminding you of the way war affected lives all over the world.
Continue your tour by taking the street car to Canal Street at the border of the French Quarter. Find Bourbon Street and walk down a few blocks to soak in all the neon signs, local performers, and maybe scope out a club to come back to later. But for now, take a right and head towards the river to Decatur Street. Keep walking away from Canal Street until you see a huge outdoor patio under a green and white striped roof – you've arrived at the world famous Café du Monde, home of the beignet. Walk in and take a seat anywhere you like, only tourists wait in line to be seated. Café du Monde is open 24 hours, so you can get a beignet with chickory coffee to start your day, or come by at the end of your night for a sweet treat after an exhausting bar-hop through the French Quarter. If you're there on a nice day, I suggest getting your beignets from the take-out window and climbing the nearby staircase for a beautiful view of the river on one side and St. Louis Cathedral on the other.
During the day time, continue down Decatur Street until you reach the French Market, where you can buy anything from souvenirs to jewelry to handmade clothes. At night, continue down Decatur past Esplanade and you will find yourself in the legendary jazz district on Frenchman Street. Choose any one of the jazz clubs to experience live music every night of the week. Keep in mind that there are many types of jazz, so if you try one out and you don't like it, try another! I like to go to the jazz clubs without a cover charge, so I recommend the Spotted Cat which is always very crowded but has reliably great performers. If you want a little more space to dance, try the Blue Nile.
If you want to listen to jazz, but wandering around a new city at night doesn't appeal to you, there are plenty of jazz brunches throughout the city at various price-points. If you're willing to splurge, consider Commanders Palace for an upscale dining experience.
Once you can't eat, drink, or dance anymore – your vacation in New Orleans is complete! Hang up your Mardi Gras beads and start planning your next trip to the Crescent City.