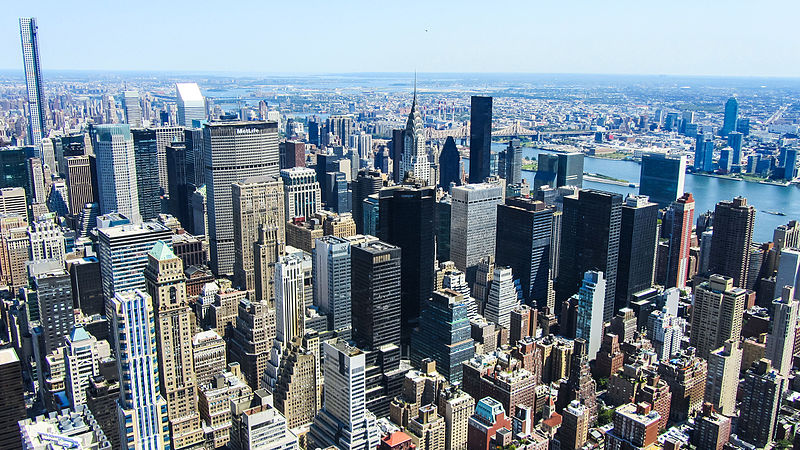 The city is constantly moving
New York City is home to 8.5 million people who are innovators, hustlers, and the best in their fields. The city is constantly moving, so things can change in a New-York-minute, which is why the best way to see the city is just to arrive. When you think of New York, you probably think of Manhattan, which is what I will focus on, but there are 5 boroughs each with their own rhythms and personalities, and they are definitely worth a stop on your tour of the Big Apple.
When you arrive at Grand Central Station, don't rush out before appreciating the incredible architecture and acoustics. Look for the people whispering into the corners, seemingly talking to the walls. Across the floor, in the opposite corner, you can hear their whispers! Do this with your friends and be amazed that you can hear over the roar of the crowd.
Now you can dive right into the crowds at Times Square. This chaotic, flashy, commercial, iconic area is full of big brands and will be good for an impressive Snapchat story. You'll need fuel for this trip, so now would be a good time to make a customized bag of M&Ms at their massive store to munch on while you see the most famous city in North America. From here it's just a short walk to Rockefeller Center, where you can buy a ticket to the "Top of the Rock" for a panoramic view of the city from above. Every winter Rockefeller Center magically transforms into an ice skating rink and is decorated with a famously tall and lavish Christmas Tree, so if you visit after the winter freeze, treat yourself to a beautiful view from the ground-level as well as the Top-of-the-Rock.
After such a busy morning now is a great time to head uptown towards Central Park and many wonderful museums. Rockefeller Center is only a few blocks from the MOMA (Museum of Modern Art), but if you'd rather see the Metropolitan Museum of Art, The Frick, The Guggenheim, or The Museum of Natural History you may want to catch the Metro instead of walking. Central Park is massive, so I suggest just wandering into the park at the entrance closest to your museum of choice. If you haven't eaten yet, Central Park has multiple cafes where you can sit outside on a nice day and enjoy the incredible green space.
Finish your tour of uptown with a stroll down 5th Avenue and Madison Avenue, you will probably recognize these affluent neighborhoods and upscale shops from famous shows set in NYC (think Gossip Girl or Sex and the City).
Now it's time to see downtown! You will once again start in Midtown, where you can find a gourmet breakfast in Hell's Kitchen before heading to Broadway for a matinee show. Be sure to book tickets ahead of time, especially for popular shows like Hamilton, The Lion King, The Book of Mormon, and Wicked. When you get out, head to yet another trendy neighborhood, Greenwich Village or SoHo, where you can shop the latest fashions and buy artisan goods. If you're feeling peckish, SoHo borders Little Italy, which is full of delicious bakeries where you can stop for some biscotti and an espresso to keep you going.
Next, catch the metro to the World Trade Center, where you can visit the 9/11 memorial and museum. From here, head to Wall Street, where you can take a picture with the famous Charging Bull statue. Then it's just a short walk to Battery Park for a quick rest before hopping on the ferry to the Statue of Liberty and Ellis Island, which has a spectacular museum that lets you experience what thousands of immigrants went through on their journey to America around the turn of the century.
Give yourself at least 3 full days in Manhattan to see all of these spectacular sites. Any spare time you may find will be best spent wandering the city and discovering special places away from the crowds, even if just for a New-York-minute.