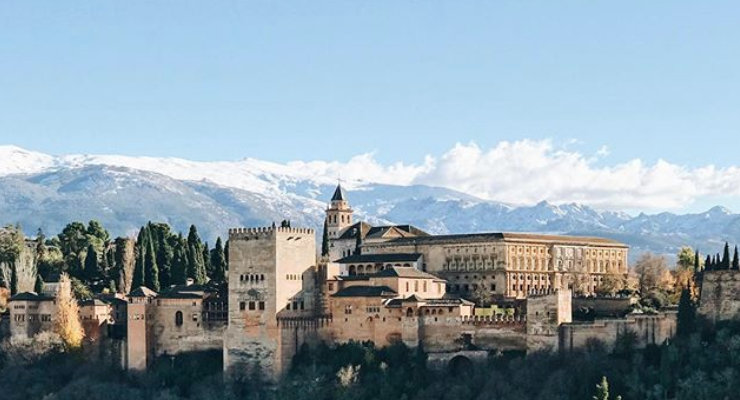 Spanish for Pomegranate
Granada (Spanish for "Pomegranate") is a place that you plan to stay a few days in and then it is a week later and you then you are drinking tea while enjoying your siesta. I lived in Granada for a month and easily fell in love with the vibrant culture, delicious free tapas, nightlife, and the people of Granada. Granada's history is an interesting read that you also need to make sure you set aside time to do. The Albaicin district, the oldest district in Granada, was once occupied by a community of Muslims that sought refuge in Granada when the Christians were conquering all of Spain. Granada was the last city under Muslim rule until the Christians snuck in and stripped Granada from the Muslims in 1492. The Christians allowed the Muslims to stay until they eventually forced religious persecution upon them. The Jewish community at the foot of the Alhambra and the Muslims in Albaicin were forced to convert or they would be expelled or even executed. In result, there are still tons of Muslim influence in Granada, including the most visited attraction in Spain, the Alhambra.

The Alhambra is one of the most impressive structures with many details that look much like the architecture that is found in Morocco. The Alhambra was originally built as a fortress in 889. Then the Muslims found and renovated the Alhambra in the 11th century and it became the royal palace in 1333. Later, when the Christians took over Granada they occupied the palace and made it their own. A full day can easily be devoted to visiting the Alhambra. The Alhambra's history and detail will not fail to leave you speechless. Make sure that the ticket is bought in advance, or the only chance to buy a ticket will be when some tickets are released at midnight for that day.

The Alhambra is not the only stunning attraction that Granada has to offer. There are also many Cathedrals, Monasteries, and Basilicas. The Granada Cathedral was originally a mosque that the Catholics built upon when they took over Granada. The Catholic King and Queen, Isabel and Ferdinand, are still buried inside the church. When traveling Europe, beautiful churches are not something that there is a lack of. Out of all the many churches that I have seen in Europe, the small Basilica de San Juan de Dios has the most impressive altar that I have ever seen. It is currently my background on my phone! Trust me, do not skip over this one.
When in Granada it is a must to pay a visit to Sacromonte. Sacromonte is where the caves of Granada are located and are home to many locals, "hippies", and some guys from Senegal. It is possible to go with a tour guide or by yourself! It is the perfect place to be during sunset. Make sure to make your way up there around 18:00, find a cave, make friends with those that live there, and enjoy the sunset. It is by far my most favorite place in Granada. I had many great conversations with bunches of lovely people I met in those caves. After the sunsets, the perfect thing to follow an evening like that is to attend a Flamenco show. There are many Flamenco shows all over Granada that you can never go wrong with. Also, there are many events in Granada advertised on Facebook. There are sometimes free Flamenco shows listed on Facebook around the city that are just as good as the shows that cost money. Also on Facebook, there are concerts, festivals, and just cool events that many tourists are unaware of. At these events, it is easy to meet locals and experience life in Granada.

Whenever hunger strikes, do not worry about breaking the bank because Granada has free tapas all over the city that are amazing! You can easily pay about 2 euros for a beer, wine, sangria, or Tinto Verano and receive a snack size meal. Some tapas bars it is possible to choose the tapa, while others they are just given to you. Some of my favorite tapas bars are Bar Poe, La Riviera, Taberna Gastronomica Chantarela, Taberna JJ, and Sitarilla. These are all great places to make a stop at before you hit the clubs. The night can go on at Booga, Pata Palo, or Efecto.
Whenever you are struggling on your way home at about 4:00, walk along Calle Elvira for the best Kebabs and Falafels. My favorite is Marchica Shawarma. The next day recover with some tea and then make your way to the Morrocan and Arabic street, Calle de la Caldereria, to find some great souvenirs to take home.

Also, if you are a big fan of hiking, there is a bus that stops in Monachil. Monachil has a famous and beautiful hike that is not one to miss. I would devote the whole day to this hike and make sure that you have packed plenty of water. I went during Autumn while all the leaves were changing colors and it was beautiful. On the way back there are some tapas bars next to the bus stop that is easy to grab a drink and a bite at before the bus ride back into the city.
During the winter, there is a bus that leaves every day from the Granada bus station at 8:00 and 10:00 that travels about 45 minutes into the Sierra Nevada's. This is where many people in the Spain region escape to ski. The Sierra Nevada's have plenty of markets and places to eat. Also, we cannot forget the ski and snowboard rentals! If skiing is not really your thing there are many other activities! There are sledding, restaurants, and just beautiful scenery that is easy to spend the entire day staring at. No matter who you are, Granada has everything that you could possibly want and more!